Crack password hash with salt python. python hash cracking script 2019-02-18
Crack password hash with salt python
Rating: 5,1/10

118

reviews
Password hashing in Python with Bcrypt
Following , to properly implement credential-specific salts, we must: Generate a unique salt upon creation of each stored credential not just per user or system-wide. The attacker can then simply do a password reverse lookup by using the hashes from a stolen password database. You should not be surprised that what you seek is difficult -- people have spent thousands of hours making it difficult for you. Getting Test Hashes In the previous class, we harvested real password hashes from Windows machines with Cain. Crack these hashes if you can! This code is made to work in Python 3. The same techniques work for Linux and Mac hashes, but thousands of times slower, because Windows uses especially weak hashes.
Next
Password Hashes with Python
What kind of exercice can we do? Simplifying Password Management with Auth0 You can minimize the overhead of hashing, salting and password management through. Then the person receiving the file can run a hash on the file to see if it matches the hash that was sent. Of course, this means you will have to rewrite your entire brute-forcing application. When the salt is unique for each hash, we inconvenience the attacker by now having to compute a rainbow table for each user hash. Crack these hashes if you can! Checking a password is usually done by passing the plain-text password as word and the full results of a previous call, which should be the same as the results of this call. Notice that the behavior of this module depends on the actual implementation of the crypt 3 routine in the running system. If someone looked at the full list of password hashes, no one would be able to tell that Alice and Bob both use the same password.
Next
Hash Functions (+Salt) Decrypter
Proj 7: Password Hashes with Python 15 pts. First understand how hash file look like. In fact, the salt is a 1337 way of writing findingnemo, a popular animated movie, which could be part of a dictionary-brute-force strategy. For example: farm1990M0Of1nd1ngn3m0 or f1nd1ngn3m0farm1990M0O are valid salted passwords. Scheme security does not depend on hiding, splitting, or otherwise obscuring the salt.
Next
Python Script to crack Unix Hash
These tables are called rainbow tables. Running the Program In a Terminal window, execute this command: python hash1. To do so, replace hex with bytes and hexdigest with digest. If you have a password, you can easily turn it into a hash, but if you have the hash, the only way to get the original password back is by brute force, trying all possible passwords to find one that would generate the hash that you have. We've built state-of-the-art security into our product, to protect your business and your users. The hashlib module, included in The Python Standard library is a module containing an interface to the most popular hashing algorithms.
Next
python
Most of these libraries include facilities for working with random numbers. Press the PrntScrn key to capture the whole desktop. The hashing of a given data creates a fingerprint that makes it possible to identify the initial data with a high probability very useful in computer science and cryptography. A password of password has this hash on Windows machines: 8846f7eaee8fb117ad06bdd830b7586c Windows does not use any salt, so every user with the same password has the same password hash. The security of users and user data should always be a priority any developer, especially when it comes to personal information such as passwords. The salt and hashed password are being saved in the database.
Next
Proj 7: Password Hashes with Python (15 pts. + 40 extra credit)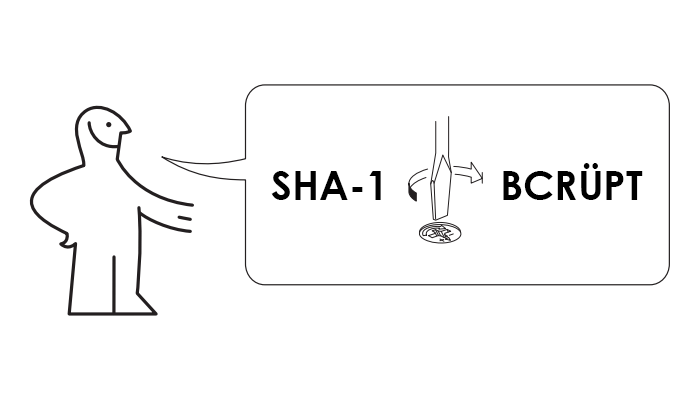 Edit: 's comment is correct, so I must point out that: Rainbow tables, despite their recent popularity as a subject of blog posts, have not aged gracefully. Send in the correct passwords to collect credit. You would get a big performance improvement by using with a decent graphics card. Fortunately, despite choosing the same password, alice and bob chose a password that is not easily found in a dictionary: dontpwnme4. Well since we're interested in security applications, why not write scripts that can crack passwords! This should help you out. Make the internet safer, today.
Next
Hash Functions (+Salt) Decrypter
Note: I use the url safe version of b64encode out of habit. Note - This isn't going to be a detailed guide on the inner working of hashing, more of a high level overview to introduce you to some of the concepts and best practices. Auth0 helps you prevent critical identity data from falling into the wrong hands. Hints Making a Loop Error Encoding an Integer Converting an Integer to a String Sources Last revised: 8-4-16. What I want to know is more efficient technique to reduce the search space.
Next
Password Hashes with Python
To circumvent this problem, the attacker may rely on a rainbow table. You will take a list of common passwords and try that first. In fact, it contains the hash of a user's password, and a salt. I have been able to crack passwords, given their salts and their hashes, by using brute force. Thus reducing the search space. To learn more, see our. Sure, in a way this is still brute-forcing, but you are brute-forcing a list of very likely passwords.
Next